Bemutatkozik az OrgazmiXound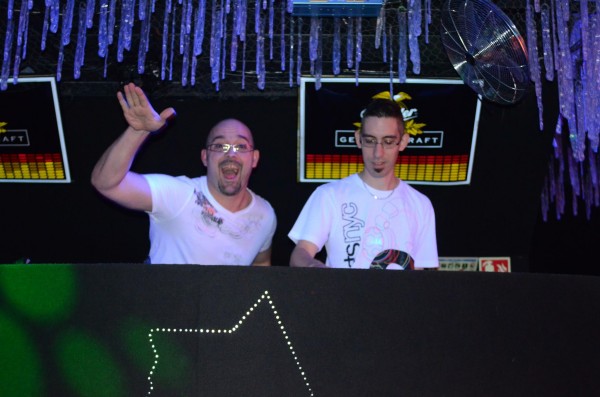 A srácok körül nagyon felpezsdült az élet. Megkértük őket, meséljenek kicsit magunkról:
Az elmúlt 3 évben, teljesen átadtuk magunkat a producerkedésnek, ill. a dalszerzésnek, így volt szerencsénk a következő kollégákkal együtt dolgozni:
Magyarországról: Cosombolis, Mc Ducky (Emergency House), Cseke Katinka (TV2 Jóban Rosszban), Bozsek Márk (Barátok közt), Révi Sándor (Sunny), Anti Fittnes Club, Discosa, Vidoven, Motiva Zenekar, Larry Hangman, Gabriello Müller (a Fiesta, a Padödő dalszerzője), Pacsai Márk (Kállay Saunders, Kustánci Lia, California Ave), Krajcár Péter (Szeifert, Vidoven, Kállay Saunders), Fernando Szauter, Dred és Doris, Daavid, Sophistic (Eurovíziós dalfesztivál), Letray Ákos.
Külföldről: No Artist (Ro) ; Brooklyn Bounce (Denis Bohn, De) és hamarosan a C Block (Frankie Miller), Ayebiza Jack (GB), tárgyalás alatt Montana Sextet (USA)
Friss aktuális eredmény: Chriss Ortega, Etienne Ozborne, Lissat & Voltaxx, Jerry Ropero, Alex Kenji, Dj Chus, Muzzaik, Steve Kid, Vincent Vega, Boogie Pimps, Nikola, Dimitri Vegas, Corey Andrew, Thomas Gold, ilyen szerény mezőnyben az OrgazmiXound és Baxy a Crank-kel 😉 Cine Tech No.1.
További megjelenések: Amazon.com, Traxsource.com, Junodownload.com, I Tunes,Beatport.com, Djshop.de, Dj Tunes

Labels: Mental Madnes (De), Rimoshe Rec (Slo), Sweet Rec (Hun), S Plus (Hun), Delighters Music (Hun), Aloon Rec (Hun)
Az általunk képviselt stílusokról annyit, hogy ugyanúgy előfordul közöttük az uplifting house, akár a tech, a deep house, a tribal, vagy a dubstep és a trance is, de néha előszeretettel keverjük a "szezont a fazonnal". Ékes példája ennek a Tribal Sandwich avagy a "Még azt mondják nem illik" c. dal és Craigmusic-kal közös "Hull a szilva a fáról". Célunk itt a hagyományőrzés és a ledöbbentés volt, ami sikerült is, mivel a recept működik ez a tech-folk.
Ebbe a ledöbbentős, provokatív kategóriába tartozik a Tacabro féle Taca Tech átgondolás is, amelyben 5 stílus is keveredik. Tech house, tribal, raggatone rap, dubstep, de nyomokban hard bass-t is tartalmaz a dal. Erre tesz rá egy lapáttal a Popstar De LuXX projekt Csini Vini-je, ami trendi hangszerelése mellett szövegvilágából adódóan finoman beszól sokaknak, körül és "le is írja" a szakmát, a benne feszülő ellentéteket.
Kicsit zeneileg bele keveredtünk a filmek világába is. Egy úgynevezett Cine Tech sorozattal. Ennek eszenciája a moziból már ismert hangokban, monológokban, dalokban rejlik. Ezeket egészítettük ki teljes dalokká, illetve dolgoztuk át Dj Baxyval. Ennek a sorozatnak a "szereplői" Jason Staham a Crankkel, Sylvester Stalonne a Cobrával, Bud Spencer a Bana Joe-val, Louis Prima a Jungle Book Groove-val.
Terveink között szerepel, hogy a jövőben újragondoljunk egy a magyar zene elmúlt 30 évét felelevenítő, döntően meghatározó dalcsokrát. Hasonló terveink vannak a 90-es évek külföldi dalaival is, ahogy az helyenként már hallható is.
Mérföldkövek a csapatunk életében:
Megnyertük a különdíjat Flame Makers Álmok szigetén remix versenyében (One Music Fm interjú a Flame Makers-el)
A Pumpsession Live stábja felfigyelt ránk (Dj Splash & Dimofat Dj, valamint Dan von Schulz)
New Sensation interjú aki kérdezett bennünket, Náksi Attila (Stereo Palma)
Megjelenéseink, eredményeink után további FM rádiós interjúk következtek: Rádió 451, Fehérvár Rádió, Nyugat Rádió, Méz Rádió, Vörösmarty Rádió, N-Joy rádió.
Visszatérő zenei műsorok, rotációs játszások, ahogy több Netrádióban is: Home Radió, Rádió Giga, Laza Rádió, Rádió Halley, Yo Rádió. Lounge Radio.
Vezetjük a californiai Dj Tunes Top 100-as listát, megelőzve egy Stefano Noferinit.
Dred – Szabad lehetsz c. maxija, rajta a remixünk 6. a Mahasz charton.
Csatornáink (link-gyűjtemény): Facebook ; SoundCloud ; MixCloud ; You Tube
Eddigi dalaink, avagy a play list (angol/magyar) dalok:
Adele – Someone Like You (OrgazmiXound Impromix)
Alex M.O.R.P.H. & Woody van Eyden feat Jimmy H – Y68 (OrgazmiXound remix)
Brooklyn Bounce & OrgazmiXound – The Theme (of Progressive Attack)
Butch,BNZO – Halotti Reshef (OrgazmiXound MashUp)
C-Block – Time is Tickin (OrgazmiXound Remix)
C-Block – Keep On Moving (Orgazmixound Remix)
Chris Lawyer & Tacabro – Right on Tac (OrgazmiXound ChiBass Rework)
Chuckie feat. Gregor Salto – What Happens In Vegas (OrgazmiXound Remix )
Corona – Rythm Of The Night (OrgazmiXound Remix)
DJ Baxy – Jungle Book (OrgazmiXound Saxy Jungle Jive Remix)
Don Omar feat Lucenzo – Danza Kuduro (Orgazmixound Remix)
Gabriel B Dawn – Vision (OrgazmiXound Remix)
Genesis – I can't Dance (OrgazmiXound Remix)
Gotye – Somebody that i used to know (OrgazmiXound Remix)
Internos feat Stephen Pickup-Never Back Down (OrgazmiXound Remix Eden)
Internos feat Stephen Pickup-Never Back Down (OrgazmiXound Remix)
J-Lo feat Pitbull – Get On The Floor (Orgazmixound Remix)
Late Night Alumni – In the Ashes (OrgazmiXound Early Morning Remix)
Maroon 5 feat. Christina Aguilera – Moves Like Jagger (Orgazmixound Remix)
Montana Sextet – Who Needs Enemies (OrgazmiXound remix)
OrgazmiXound – Banana Joe Theme (Original BananaTourMix)
OrgazmiXound – Banana Joe Theme (Original mix)
Orgazmixound – Boogie
OrgazmiXound – Crank 2012 (Original version)
OrgazmiXound – Quadral (Original mix)
Orgazmixound – S&S
OrgazmiXound – SweetSound
OrgazmiXound – Tribal Sandwich (Original mix)
OrgazmiXound feat. Daavid – Follow Me (Extended)
OrgazmiXound – Nokia Tuned Up (2011)
Ottawan & Javi Mula – Te's Come On (OrgazmiXound Mash Up)
Sak Noel – Loca People (OrgazmiXound Remix)
Shakira feat. Pitbull – Rabiosa (Orgazmixound Remix)
Snap – Cult of Snap (OrgazmiXound Remix)
Sophistic – Yeah OK! (OrgazmiXound Remix Vol.1)
Sunny – Come with me (OrgazmiXound Back To 80's remix)
Thembi – Love Me Forever (Orgazmixound Remix)
Vidoven – The Right Way (OrgazmiXound Remix)
Yves Larock – Rise Up (OrgazmiXound Remix)
AFC – Mennyország (OrgazmiXound Radio Edit)
Baby Sisters – Szeresd a testem Baby (OrgazmiXound Veretes Edition)
Cozombolis – Itthon vagyok (OrgazmiXound Radio Edit)
Cozombolis – Zenemegaszerelem (R&G extended version)
Cseke Katinka Daavid – Őzi & OrgazmiXound – Karacsony éjjel
Daavid – Hangokba Zárva (OrgazmiXound Remix)
Daavid – Végre 7vége (feat. Fernando) (OrgazmiXound Remix)
Daavid & Orgazmixound – Álmodd velem (Extended Mix)
Daavid feat. Orgazmixound – VV valahol vár rám
Dancelovers feat Dominika – Emlék (OX remix)
David feat. OrgazmiXound – Én várnék rád
David feat OrgazmiXound – Futok az éjben
David feat OrgazmiXound – Nem leszek gép(Extended mix)
David feat OrgazmiXound – valahol vár rám (Summer Latino extended)
David feat OrgazmiXound – Valahol vár rám(Extended Version)
Discosa – Party (Orgazmixound Remix)
Dj Mark Red & OrgazmiXound – Magyar népmesék (Tech Folk Extended)
Dj Nyeste feat Jandy – Hol jársz 2012 (Orgazmixound Radio Edit)
Dred és Doris – Szabad lehetsz (OrgazmiXound 2013 Remix)
FlameMakers – Álmok szigetén (OrgazmiXound Extended)
FlameMakers – Álmok szigetén (OrgazmiXound Slow Remix)
Janicsák Veca – Szeretek Élni (OrgazmiXound remix)
Janicsák Veca-Szeretek Élni (Orgazmixound RoXteady remix)
Kelemen Kabátban – Nyári Dallam (OrgazmiXound Extended Version)
Larry Hangman – Siesd El (OrgazmiXound Radio Edit)
Létray Ákos & Hamvai PG – Fény és Örvény (OrgazmiXound Remix)
Melon – Ébressz fel (Orgazmixound Radio Edit)
Motiva – Napom Fénye (OrgazmiXound ParipásOstor remix)
Orgazmixound – Mobilorgazmus 2011
OrgazmiXound – Nokia Tuned Up (2011)
OrgazmiXound feat. Daavid – Felhők felett
OrgazmiXound feat. Daavid – Nem tudom feat MC Ducky (Original mix)
Popstar de Luxe-Csini vini(OrgazmiXound SiXalag RemiX)
Az előéletünkről:
Kasza Róbert / Rocco
1993-1994 nyara Party Rádió Csongrád Körös Torok műsorvezető/Dj
1993-1997 Média 6 Rádió Szentes 95.7Mhz műsorvezető/Rádió Dj (Média 6 Mix)
1993-1995 BanDisco warm-up Szentes
1993-1997 nyara Közép iskolai Bulik: BJG Csongrád, 603 Csongrád, Közgé Szentes, Pollák Antal Ipari Szakközépiskola, 1992-1997
1997 nyara Happy Day Csongrád rezidens DJ Köröstorok
2003-2006 Tapolca Rádió műsorvezető/Rádió Dj FM 101.8Mhz, B52 Club rendszeres vendég dj, Tapolca Fürdő Show Party-k a tapolcai városi strandon 1998-2000
2003-2006 Szigliget Szabad Strand/nyári rezidencia
2003 nyara Győr Rádió Győr Fm 96.4 Mhz műsorvezető
2003 Badacsony Il Capitano/rezidens dj
2006 nyara Fehérvár Rádió/BPM rendszeres vendég DJ, Voluman Pioneer Pro Dj Agárd Nádas Disco társ szervező 2006
2006-2010 Helikon Rádió műsorvezető/Rádió Dj 99.4Mhz Helikon Rádió Party-k, Buliövezet Top 40
2007 tele Road 84 Sümeg rezidens dj
2008-2010 Rendszeres vendég és rezidens DJ: Club Inside Keszthely,Stones Keszthely, Blondie Vonyarcvashegy, Extázis Nagyatád 2009
2009 tele, a nagy találkozás az akkor még R&G Kovács Richárddal a Buliövezet Top 40-ben a Helikon Rádióban 🙂
Röviddel ez után megalakulunk, mint OrgazmiXound
2010 Mobilorgazmus Party-k: Ajka Mokambo House, Nagyatád Extázis, Révfülőp Attaca, Szentes Gold Club, Székesfehérvár Bahnhof
Kovács Richard:
Miután apám Kovácsnak született, ezért lettem én is az. Ő korábban dobolt, így a ritmust már édesanyám hasában éreztem, mielőtt születésemkor 1988. augusztus 15-én megláttam az első neoncsöveket.
Zenei pályafutásom kb. 3 évesen elkezdődött, amikor már az AIWA típusú kazettás magnónk "play" gombját nyomkodtam:). Később édesapám dobfelszerelését gyilkoltam sikerrel, mert eltüntettem a dobverőit:D.
Később jött a Hifin a kazettás mix, no meg a Ottawan bakelit "húzkodása":D
Miután ezeken is sikeresen túlléptem 2001 hozzájutottam a Dance E-jay 2-höz amivel még elég kezdetlegesek voltak a nóták.
Aztán később már az FL Studio nevű programmal dolgoztam,
De komolyabban csak 7 éve foglalkozom a zenék írásával és remixek készítésével.
Dj karrierem kezdetben a suli bulikon való zenélésből állt.
Később, az idő múlásával már komolyabb helyeken is dolgozhattam.
2007-2008 Laza Rádio műsorvezető
2008-2009 Club 7 Rádio műsorvezető
Helyek ahol megfordultam:
Easy Music House, Keszthely
Blondie,Vonyarvashegy
XXL Disco Club,Dombóvár
Mama Africa,Zalaegerszeg
Tropics Disco,Lloret De Mar
Zenei Pályafutásom:
Studio 68 formáció:
– 2 kiadott lemez (Érzem 2008, Emlékszem 2009)
Az Emlékszem című dalt a Sláger Rádió mellett több hazai rádió is rotációban játszotta.
R&G:
-Tango Tune (Mental Madness,Németország 2010 Katalógusszám: MMR199)
A dal világszerte szólt a rádiókban, több válogatáson is megjelent.
Van még kérdés? 🙂